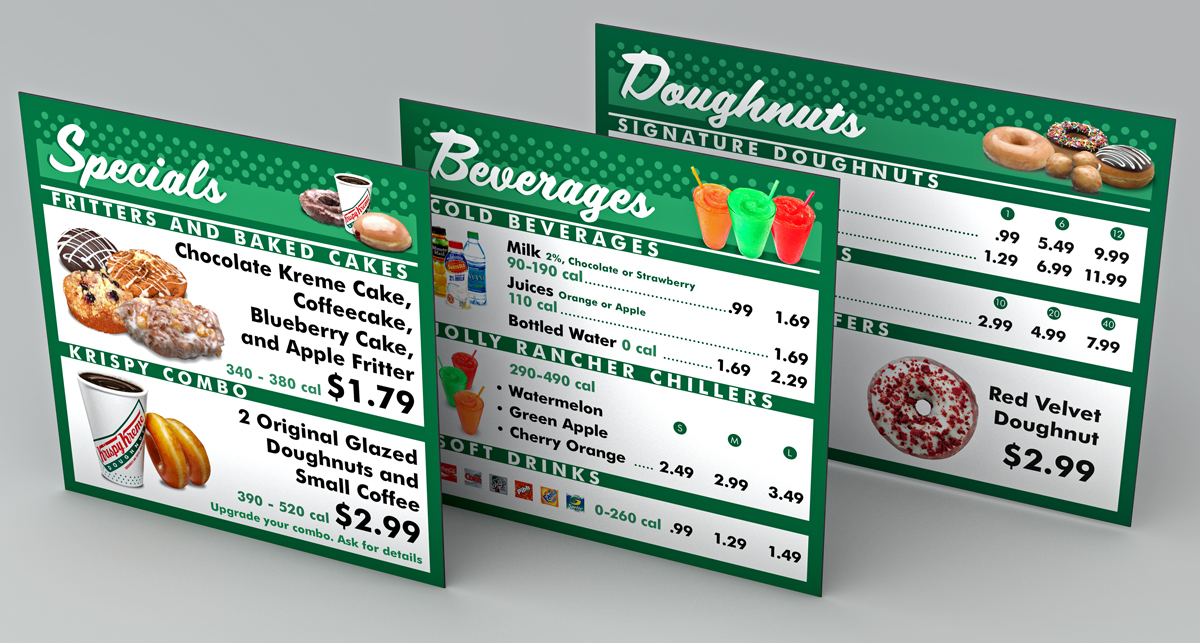 I was tasked with overhauling the look of the menu boards for the regional branch of Krispy Kreme stores, otherwise referred to as "KremeWorks". I started off by reviewing something as simple as their box.

As far as concepts go, I tried my hand at four different versions, whilst a co-worker tried a few as well. Ultimately, KremeWorks would choose one of my ideas. After that, it was time to tighten things up.

The look I would flesh out was to be an amalgam of their iconic box design mixed with a spirit of the '50s. I would initially, in truth, choose a type size too small to be ideal for use in, say, the drive-thru -- but we tweaked that and settled on a look that worked as well as it read.

I laid out a virtual drive-through sign system in InDesign so we could preview how the signs would look in the fixture in advance of printing them out. Not the most revolutionary notion, but apparently they hadn't thought of that previously. All it took was a lunchtime bicycle ride and a tape measure to dispel a bit of the trial-and-error that they experienced previously.

Eventually, additions to the signage would occur, with magnetic "snipes" being created to add to signs that could be changed as the season or current promotion necessitated.
I would ultimately create directives to reflect where on the sign systems certain pieces would go, and on what panels the magnetic snipes would be placed.

Since the regional stores had different needs, ranging from adding calories to a subregional selection of products, I kept track of all the different types of signs visually one large overview sheets we'd kick out using the plotter. They all shared common elements, but it was all too easy to confuse similar but different panels. These helped us to identify differences quickly and keep production from getting confused or sending signs to the wrong stores.

So many revisions occurred to the products listed and prices on signs, I developed a "checklist" system that I would use to track all of the revisions requested. Typically, the salesperson, customer service rep or client themselves would e-mail or press "forward", so this became the best way to combine all of that data and review it with the client to make sure nothing was overlooked. That probably should have been the job of a project manager, but I had to find a way to keep things on track.